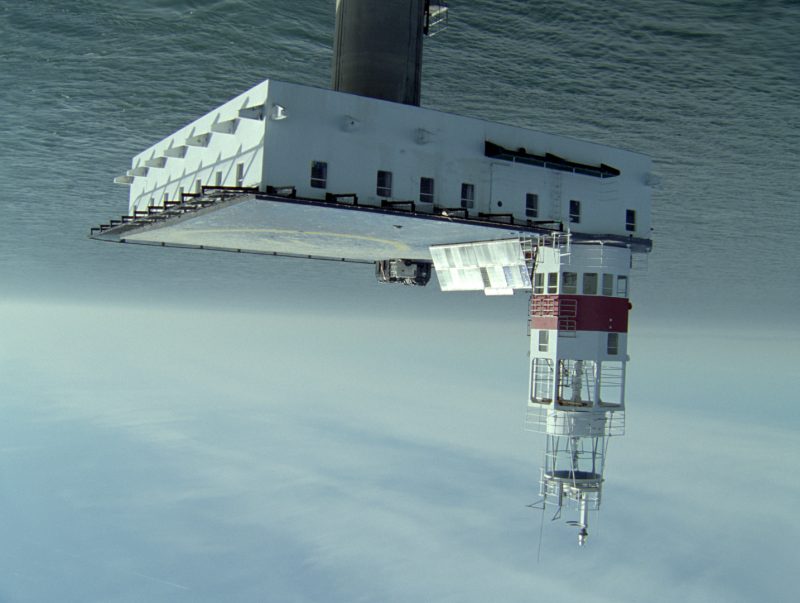 Private View: Thursday 21 October 2021, 18:30 – 20:30
The exhibition Falling Away brings together Catherine Yass's vertiginous film installations at Ambika P3. The first retrospective of the artist's extensive body of film work, it spans the past two decades and includes a new work made in response to the impact of COVID-19 and global warming. Ambika P3's vast subterranean space will engage audiences in the disorientating effects of Yass's films, which portray architecture in a state of construction, abandonment or demolition. By engaging with our perception of verticality, these works address the relationship between material structures and the powers and institutions that embody them.
The exhibition provokes us to think about the conditions of social and psychological instability in which we currently live. It draws attention to the vital role of public services, whose fragility has been exposed by the ongoing pandemic. For example, one of Yass's films documents a hospital undergoing demolition from the perspective of the dying building, revealing a beleaguered NHS; in another film, the BBC appears vulnerable as its visionary TV Centre is dismantled for real estate. The sensory impact of these works will be fully experienced when exhibited in Ambika P3. Since its inception, Ambika P3 has been developing innovative methods for forming a distinctly experimental art site, rather than a gallery or cinema. This exhibition will further question the multiple relationships between artist, image, space, and viewer, as well as the collaborative role of the curator as designer and co-producer. Falling Away is co-curated by film-maker and Ambika P3 curator Michael Mazière and Davide Deriu, Reader in Architectural History & Theory at the University of Westminster. The exhibition is informed by Deriu's research into vertigo in the city as well as Maziere's interdisciplinary curatorial practice. It will be accompanied by a symposium, secondary school and community workshops. An exhibition catalogue, freely available in print and open access, comprises essays by art writers, historians and critics as well as by the curators.
Acknowledgements
This exhibition is generously supported by: Arts Council England; British Academy; University of the Creative Arts; University of Westminster's Research Communities and CREAM (Centre for Research and Education in Arts and Media).
Click here to book for the Private View
Click here to book for the Symposium
Click here to download the catalogue
Visitor Information:
Exhibition continues 22 October – 20 November 2021
Opening hours: Tuesday–Fri, 11am–7pm, Sat–Sun, 12pm–6pm