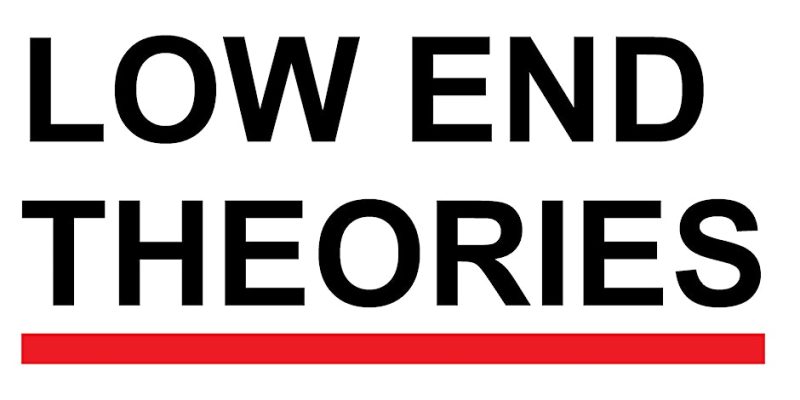 Chris Christodoulou will present the paper 'Rumble in the Jungle: Space, Place, and Uncanny Bass' at the Low Theories Conference 2023 on Saturday 20th May, 11.30am.
Low End Theories: Bass Culture, Sound Systems, & Popular Music is a free online academic conference responding to recent developments in the study of bass culture, sound systems, and popular music. The conferences takes place online on Friday 19th & Saturday 20th May.
Paper Abstract
While bass powerfully resonates in the lexicology and commercial marketing of a range of electronic dance music (EDM) styles, little popular music scholarship has paid attention to the psychoanalytic significance of low frequencies in their modulation of intense feelings of pleasure. Based partly on my research carried out for the Bass Culture project at the University of Westminster (2016-19), this presentation intertwines Freud's notion of the uncanny with Henriques' image of the pre-linguistic "sonic body" to discuss how the fetishisation of bass in the jungle drum 'n' bass genre can be linked to the music's formation out of de-industrialised areas of London and the South-East of England during the early-1990s; its accelerated breakbeats and 'dark' basslines inscribing the psychosocial crises of an absence of community, the precarity of late-capitalist labour, and the future shock of rapid and uncontrolled technological development. I will argue that bass stimulates a primal memory of the pre-linguistic child's intrauterine existence within the originating space of the mother's body (heimlich), thereby revealing the radical ambiguity of home as a deterritorialised space of pre-subjective safety and bliss (heimlich), and the purgatory of eternal unhomeliness and unfamiliarity (unheimlich). This reading frames bass as facilitating a powerful sense of jouissance that can disrupt participant subjectivity while consciously recasting sensed surroundings via supernatural and extra- or post-human conceptions of auditory phenomena as cultural discourse.