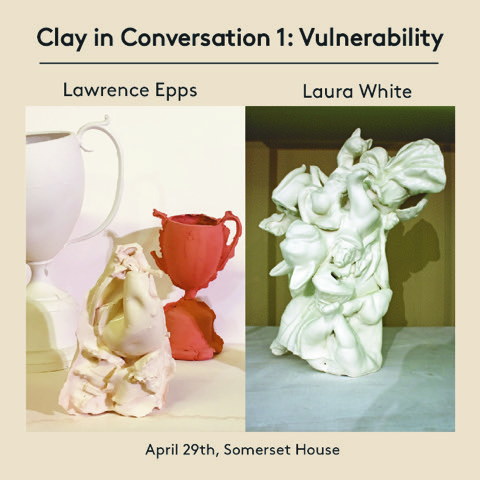 Tessa Peters, member of the Ceramics Research Centre-UK, is chairing a discussion between artists Lawrence Epps and Laura White.
This is the first in a series of curated conversations that aim to provide a platform for presentation, dialogue and discovery, and which bring together a diverse range of artists with a practice in clay and ceramics.
Lawrence Epps will speak about Accolade, a project that developed from his 2019 residency at the Jingdezhen International Studio, China. The subsequent collaboration with statistician Professor Sir David Speigelhalter, involved an intricate work of chance (slumped ceramic trophies, an iPad app, £2000 of gold bullion and a sushi conveyor belt) to confront societal biases. Accolade was exhibited in the British Ceramics Biennale 2019.
Laura White's chosen work is White Mud, 2018-19, which she exhibited as part of The Precious Clay: Porcelain in Contemporary Art exhibition at Museum of Royal Worcester. The work presented a collection of porcelain objects, working with the materials capabilities and limitations, the collapses, breaks and cracks exposing the vulnerability and strength of the material, whilst also suggesting new and challenging possibilities.
Clay in Conversation is curated by artist Julia Ellen Lancaster, supported by Potclays and hosted by Makerversity.
Tickets can be booked via Eventbrite www.eventbrite.co.uk/e/clay-in-conversation-1-vulnerability-tickets-313514489277