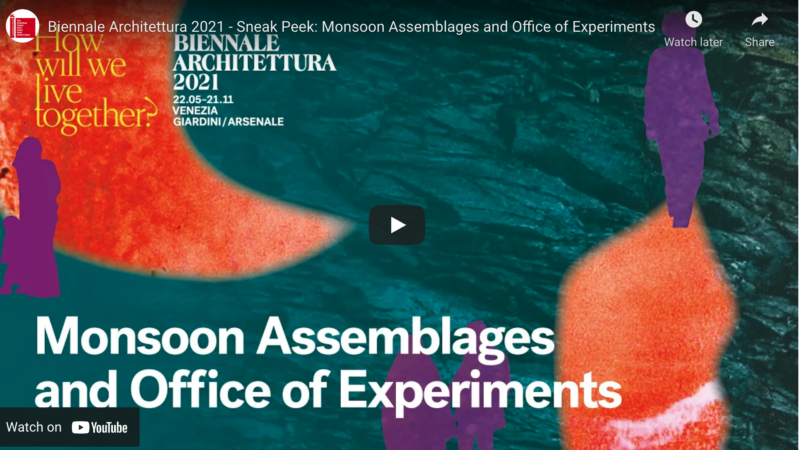 Neal White (CREAM) and Monsoon Assemblages (Architecture) at The Central Pavilion of the Giardini – Venice Biennale of Architecture – Opening May 22nd 2021.
Neal White (artist/researcher based in CREAM), working with Office of Experiments was invited by Monsoon Assemblages (School of Architecture and Cities) to collaborate on a new work at Venice Biennale of Architecture 2021. Titled 'Between the Dragon Fly and the Barometer', the installation which forms part of the exhibition staged in the Central Pavilion of the Giardini, examines the Indian Ocean monsoon from the perspective of the Globe Skimmer dragonfly and the impact of climate change on it. Watch the preview film here.
Neal White's research explores through artistic enquiry the dislocation of scientific knowledge into sensory encounters, using sculptural, auditory and temporal forms – including advanced forms of digital media. For this project, he worked with Bill Thompson (Composition) and Erik Kearney (Engineering) with temporal / meteorological data collated by Monsoon Assemblages from across the Indo-Pacific region, focussing on three spatial reference points, the cities of Chennai, Dhaka, and Yangon. Bringing together additional models, visualisations as drawings and fieldwork documentation by Monsoon Assemblages, the installation reflects the changes occurring across the Monsoon event and rain periods, to convey how climate change and the Anthropocene, a proposed geological era, are causing an increase in monsoonal unpredictability.
Talking about the installation, Dr Lindsay Bremner of the Monsoon Assemblages project said: "In responding to the question posed by the curator of the 2021 Venice Architecture Biennale, Hashim Sarkis, 'How will we live together?', Monsoon Assemblages teamed up with Neal White's Office of Experiments to design an installation framed by the monsoon and the flight of the Globe Skimmer dragonfly. By drawing connections between geology, meteorology, monsoonal cities and nonhuman lifeways, our installation highlights the mutual entanglement of human and nonhumans in changing climates."
Monsoon Assemblages is a five-year multi-disciplinary enquiry funded by the European Research Council (ERC), hosted by the University of Westminster. It is studying the relations between changing monsoon climates and rapid urban growth in Chennai, Dhaka, and Yangon, three of the largest cities in South Asia.
The exhibition will open 22nd May 2021, subject to the constraints of local and International restrictions as a result of COVID.

CREAM is also delighted to be able to announce that this is not the only project at Venice this year. Julie Marsh (CREAM) has worked closely with Chris Turner (Curator), Ella Kilgallon (Curator) and Shahed Saleem (Curator – Architecture at Westminster) on the V&A/ La Biennale Special Project. Further information on this project will be available shortly.