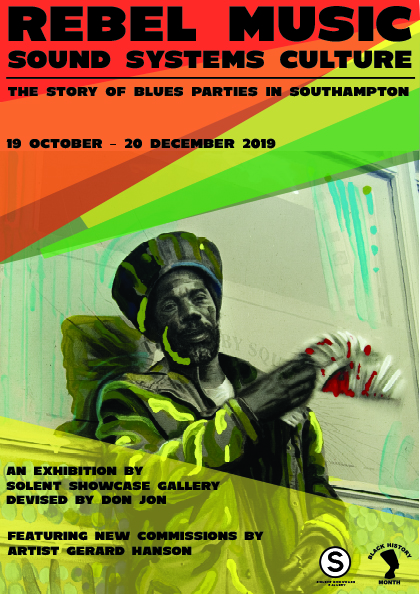 This exhibition recognises the impact that Jamaican music has had on culture and explores its past, present and future, with special focus on the untold story of the Southampton Blues Parties of the 70s and 80s.

Join us for a free evening of celebration and affirmation with an exhibition preview, a film screening of 'Bass Culture' Mykaell Riley and a special blues party hosted by MAKA foundation, Southampton's leading reggae sound system since 1979.

In collaboration with Black History Month South. 

The exhibition was devised by Don John and together with archival materials and contemporary artist Gerard Hanson, will explore the story and impact of Jamaica and Jamaican-influenced music on British culture, particularly through the story of the 'Shebeens' or 'Blues' clubs in Southampton.

Gerard Hanson was born in Bradford of Jamaican and Irish parents and much of his art explores his heritage and identity.  In this exhibition he will be creatively exploring the reasons why the Shebeens came about and their impact on the city. People with memories to share are invited to contribute imagery or stories to contribute to the exhibition and help to tell the Southampton story.

Info about the film – 'Bass Culture' by Mykaell Riley

"This is the story of the soundtrack to multiculturalism, a hidden history that is still impacting on new British music."
 – Mykaell Riley, Principal Investigator and Director of the Black Music Research Unit, University of Westminster

Bass Culture is the first Arts and Humanities Research Council award to the Black Music Research Unit at the University of Westminster. It takes the form of a three-year project exploring the impact of Jamaican and Jamaican-influenced music on British culture. Covering the period from the 1960s to the present day, the research explores the profound ways in which the island's music remade popular music in Britain – and was fundamental in the emergence of multiculture in the British city and the redefinition of the post-colonial nation.

Exploring the impact of Bass Culture through the explosion of Jamaican genres like ska, reggae and dub in the UK to the development of distinct British variants like dub poetry, two-tone and lovers rock. They also explores Bass Culture as a creative practice, an independent economy and a source of alternative philosophical and political ideas.
6pm – 7pm: – EXHIBITION PREVIEW AT SHOWCASE GALLERY
7pm – 9pm: – FILM SCREENING OF 'BASS CULTURE' BY MYKAELL RILEY AT SHOWCASE GALLERY
9pm – til late: – BLUES PARTY WITH MAKA FOUNDATION across the road at Belgium and Blues