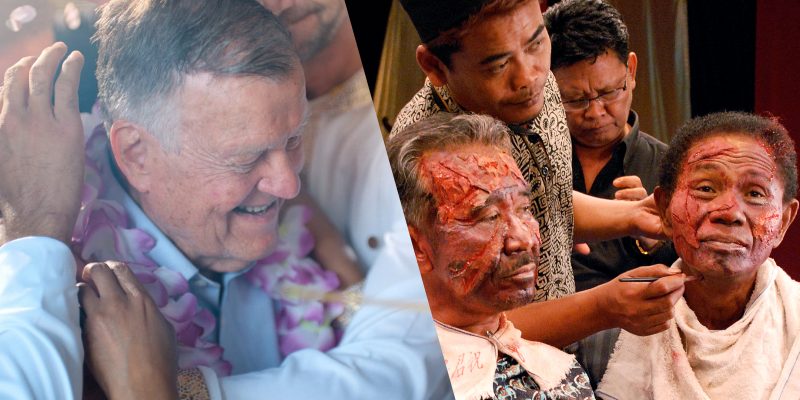 A very special opportunity to join two of the most ground-breaking filmmakers of recent years, KIRSTEN JOHNSON (Cameraperson, Dick Johnson is Dead) and JOSHUA OPPENHEIMER (The Act of Killing, The Look of Silence), as they discuss the use of performance in nonfiction cinema and how they collaborate with their participants.
This dialogue is the first in a series of events hosted by the Documentary of the Imagination research project at CREAM at the University of Westminster. The project is led by Joshua Oppenheimer and Rosie Thomas and funded by the Arts and Humanities Research Council (AHRC). The event is co-hosted by Doc Society and CPH:DOX.
Kirsten Johnson's DICK JOHNSON IS DEAD premiered at Sundance 2020 and won the Jury Prize for Innovation in Nonfiction Storytelling. It went on to win Best Documentary and Best Director for the Critics Choice Award, Best Editing and Best Writing from the IDA, Best Director from Cinema Eye, was included on dozens of top films of 2020 lists and made the Oscar shortlist. Her previous film, CAMERAPERSON, named in New York Times 'Top Ten Films of 2016', was also shortlisted for the Academy Award. Her short, THE ABOVE was nominated for the IDA's 'Best Short Award' for 2016. Her camerawork appears in Academy Award winner CITIZEN FOUR, Academy nominated THE INVISIBLE WAR, and Cannes Winner FAHRENHEIT 9/11. She is one of the only 4% of women members of American Society of Cinematographers.
Joshua Oppenheimer's debut feature film, THE ACT OF KILLING (2014 Oscar® Nominee for Best Documentary), was named Film of the Year in 2013 by the Guardian and the Sight and Sound Film Poll, and won 72 awards, including a European Film Award, a BAFTA, an Asia Pacific Screen Award, a Berlinale Audience Award, and the Guardian Film Award for Best Film. His second film, THE LOOK OF SILENCE (2016 Oscar® Nominee for Best Documentary), premiered at the Venice Film Festival, where it won five awards, including the Grand Jury Prize. Since then, it has received 72 awards, including an Independent Spirit Award and a Gotham Award. The two films have helped transform Indonesia's understanding of the most important event in its modern history – the 1965-66 genocide – inspiring a movement for truth, reconciliation and justice. He is Professor of Film at the University of Westminster.
Tickets available on Eventbrite.