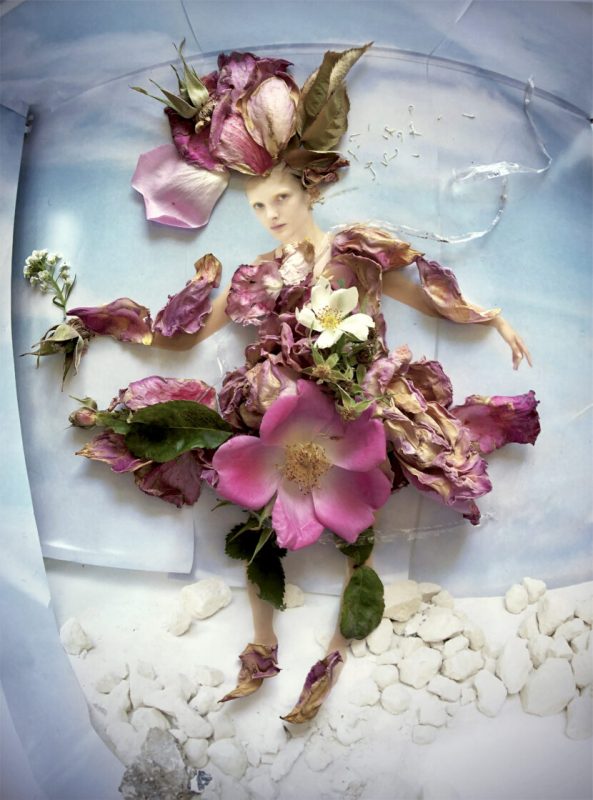 A creative collaboration between guest curator Amy de la Haye and set designer Simon Costin, Wild & Cultivated: Fashioning the Rose, celebrates the rich and romantic history of adorning oneself with roses, and the use of wild and cultivated roses in fashion, art and craft practices. The rose and fashion are inextricably entwined. Roses, like fashion, are a luxury and they are ephemeral. They are both 'shown' seasonally, their appeal is multi-sensorial, and they each incite passion and obsession.
The exhibition will explore the use of roses in fashion from the Victorian era to today with designs from Alexander McQueen, Philip Treacy, Ashish, Comme des Garçons and more.
A hand-painted sheepskin coat from Andrew Groves' Autumn Winter 1999/2000 collection titled 'The Diaspora' is included in the exhibition. Originally shown as part of the Spring Summer 1999 collection Cocaine Nights, the coat was a plain white sheepskin coat. The following season, the coat was spraypainted black and hand-painted with roses in various colours. These were intended to resemble the faded decorative painting found on circus side stalls, with the roses embodying the idea of dying love.