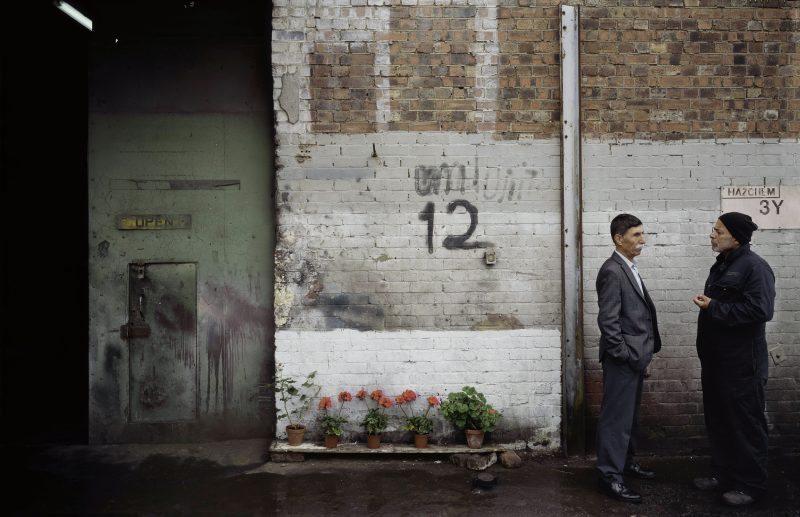 Mitra Tabrizian's 'Film stills' is part of the exhibition, Life is More Important than Art, at Whitechapel Gallery from 14th June until 3rd September.
Film stills are often photographs of the main character(s) taken on or off the set to introduce/publicize the film. The main purpose of such publicity stills is to help promote the film and stars. Shots can be taken during the filming or separately posed. Many of these have self-explanatory designations: seasonal gag shots, fashion stills, commercial tie-ups, poster art, clinch shots (special posing for print advertising) and candid snapshots. By far the most popular of these many kinds of film stills are those portraying glamour, menace or gag interpretations.
The stills presented here deviate from all the above approaches. Inspired by/related to the feature film, Gholam (2018), the work uses the real locations of the film, yet focusing on the rejected cast, or the extras – or depicts the empty landscapes, with an implication of narrative. In this respect the images also differ from the usual film stills which often portray one or more characters – rarely devoid of people.
Set in London, 'Gholam' tells the story of an enigmatic Iranian taxi driver, who doesn't like to talk about his past, doesn't care about his future, and doesn't commit to anything/is uncommitted. A man with no past, no future, no 'conviction', he still gets involved in the conflict of a total stranger and carries it through, regardless of the consequences. So the story contains an element of danger and the risk that the character has to take getting involved with some one else's problem. The stills here, however, with their pared- down aesthetic, neither exhort nor prognosticate; neither show, nor name the danger or the drama. Instead, the work presents a collection of enigmatic images, which leaves the narrative open to interpretation – telling the story differently or even induce the anti-story! But, as in the film, it portrays a unique image of London, the 'unseen' city of migrants, living on the edge – and the sense of being on the 'other-side'.