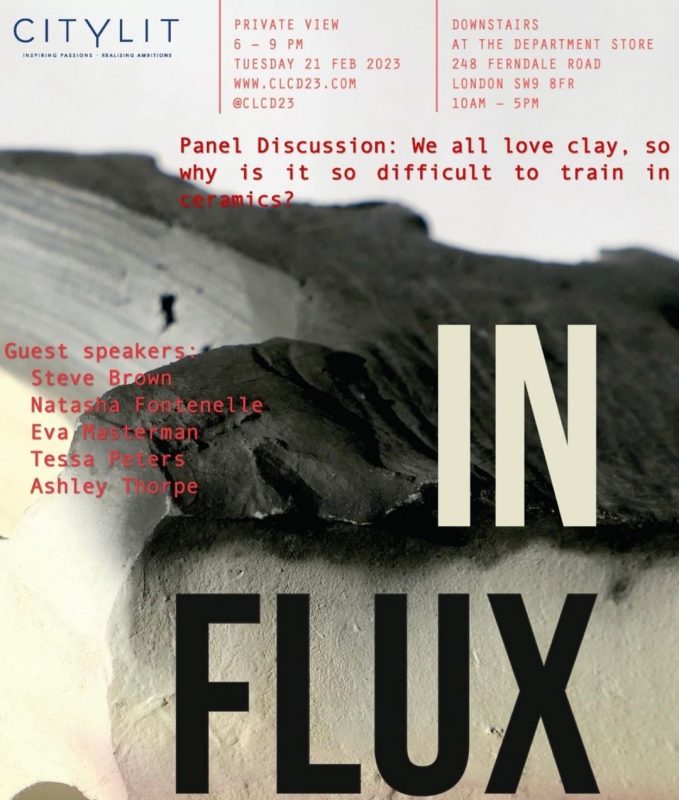 Panel Discussion regarding the current status of professional ceramics training in the UK, presented by City Lit Ceramics Diploma 2023.
Tessa Peters (Ceramics Research Centre, UoW) is one of five artists and educators invited to take part in a panel discussion to share thoughts on the current state of professional ceramics training in the UK.
The other speakers are:
Steve Brown, Senior Tutor, MA ceramics and glass at the RCA. Brown also works in the ceramics industry and the museum sector, notably in collaboration with the V&A, developing innovative methods for restoring historical ceramic works.
Natasha Fontenelle, graduate of the City Lit Ceramics Diploma and MA (RCA) Ceramics and Glass. She is a multidisciplinary artist who works performatively with a wide variety of materials, processes and disciplines interwoven with her ceramic practice.
Eva Masterman, a ceramic artist, educator and podcast host who graduated from the RCA with an MA in Ceramics and Glass in 2016. Her practice investigates intersections between sculpture, theatre, and ceramic pedagogy.
Ashley Thorpe, Reader in the Department of Drama, Theatre and Dance at Royal Holloway, University of London, and Director of the Centre for Asian Theatre & Dance. A serious collector of ceramic art, he is author of 'Contemporary British Ceramics' (Crowood Press, 2021).
The discussion is organised by members of the City Lit ceramics diploma course.
Booking necessary through Eventbrite.