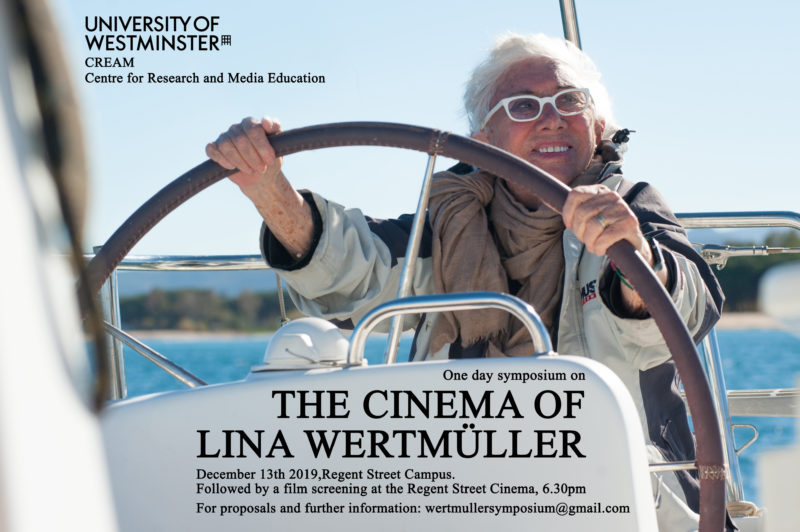 CREAM presents a one day symposium devoted to the work of Lina Wertmüller, followed by the UK Premiere of Seven Beauties (Pasqualino Settebellezze) (1975)
The first woman to ever receive an Academy Award nomination for best director for her 1975 film Pasqualino Settebellezze (Seven Beauties), Lina Wertmüller has rarely been granted the attention she so richly deserves, by both audiences and critics. Receiving a career Oscar in October 2019, it is timely to rediscover this director's work. Often labelled controversial and transgressive, her films are indeed quintessentially political, addressing matters of class and gender in a bold and innovative manner. A truly original voice in an Italian landscape dominated by male filmmakers, Wertmüller's cinema tackles challenging topics with irony and levity, producing unforgettably tragi-comic results.
The symposium will take place on December 13th, 2019 from 1.30pm – 5.30pm, Room UG05, Regent Street Campus, and will be followed by a 6.30pm screening at the Regent Street Cinema.
The symposium will bring together scholars in the field of film and gender studies to engage with the work of Wertmüller on all aspects of her cinema.
To reserve a place: https://www.eventbrite.co.uk/e/lina-wertmuller-symposium-tickets-79379481165?aff=ebdssbeac
Seven Beauties (Pasqualino Settebellezze )(1975), Dir Lina Wertmuller 116 minutes
Presenting the newly restored version of the film nominated for four Academy Awards including Best Director. Seven Beauties stars Giancarlo Giannini as Pasqualino Frafuso, a small time crook known in Naples as "Pasqualino Seven Beauties." Living off his seven sisters and claiming to defend patriarchal honour, Pasqualino goes from a life of power on the streets to a concentration camp where he attempts to escape by seducing a German officer. The film has been restored in 2019 by Centro Sperimentale di Cinematografia – Cineteca Nazionale from the original 35mm and the optical sound negative made available by RTI- Mediaset in collaboration with Infinity.

To book a ticket for Seven Beauties go to: https://www.regentstreetcinema.com/programme/seven-beauties/