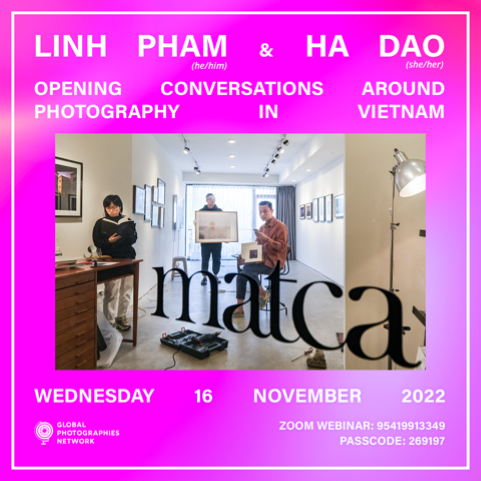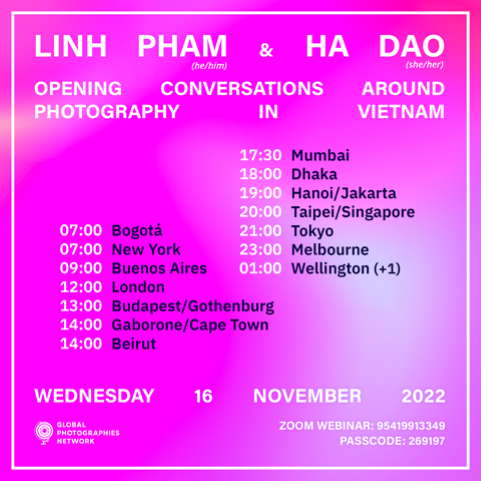 The Global Photographies Network are delighted to invite you to the next talk in their Global Photographies talks programme! This month, we get to hear from Hanoi-based photographers Linh Pham (he/him) and Ha Dao (she/her) as they present their talk: Opening Conversations around Photography in Vietnam.
Linh Pham and Ha Dao will present their work at Matca, an independent photographer-run initiative in Vietnam, in conversation with Eugenie Shinkle, University of Westminster Reader and co-founding editor of C4 Journal. Addressing the lack of infrastructure for photography in their home country, Matca was founded in 2016 as an online journal and has since evolved across platforms including a physical space and a small imprint called Makét. They will share the peaks and valleys of mapping the contemporary scene, navigating the contested Vietnamese photographic legacy, as well as making exhibitions and publishing books among various constraints over the past six years with humble resources. Last but not least, the talk will focus on Matca's recent digital publishing collaboration with the UK-based C4 Journal, which shares the common goal of opening up different ways of thinking about the medium and promoting emerging talents in photography.
Some more information on our speakers below:
Linh Pham is a photographer based in Hanoi. In his practice, he explores the human condition in the Lower Mekong, a region affected by social transformation, rapid economic growth, and domestic conflicts — all with a contemporary touch that reflects his studies in art and design.
Although working internationally, Linh in his personal works often returns to present-day issues linked to Vietnam's past. He is a frequent contributor to Getty Images, The New York Times, and National Geographic, amongst others. In 2016, Linh co-founded Matca. He was named one of the talents from Southeast Asia and Oceania by World Press Photo in 2019 and joined the 2022 World Press Photo Contest as a juror.
Ha Dao grew up on the outskirts of Hanoi. Inspired by strange incidents that occur in everyday life, her photographic works take an imaginative approach to documentaries and are built upon close observations mixed with loose associations. Her works have been featured and exhibited in Photoworks, Trans Asia Photography Asia, Manzi Art Space, Xie Zilong Museum, Objectifs Centre of Photography & Film, among others.
She received the Higashikawa Award in the Overseas Photographer category and the Prince Claus Fund's Seed Award in 2022. Since 2017, Ha has been serving as the managing editor and program coordinator at Matca.
Please feel free to share this invitation and poster with any colleagues, students, friends or artists that you feel might be interested in attending!
The event will take place remotely, via Zoom. Please check the poster for the start time, as this will depend on your local time zone. Save this link to access the talk.
https://ucl.zoom.us/j/95419913349?pwd=SFhCSzV6a3o5TC9ocUpITTZvbEdDUT09
Passcode: 269197