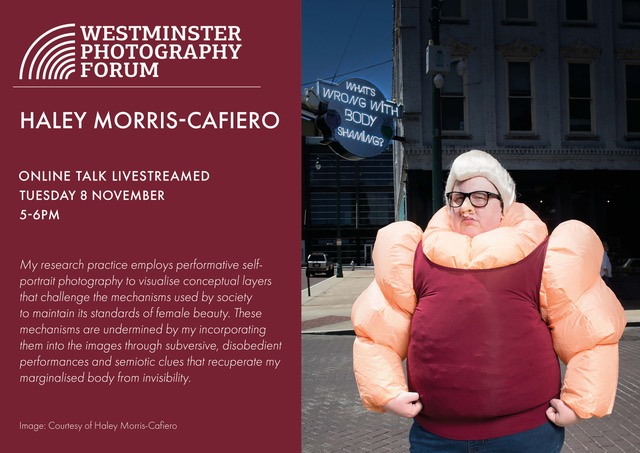 Westminster Photography Forum presents HALEY MORRIS-CAFIERO on Tuesday 8th November, 5-6pm.
This event is ONLINE ONLY due to transport concerns due to the rail strike.
Part performer, part artist, part provocateur, part spectator, Haley Morris-Cafiero explores the act of reflection in her photography. Morris-Cafiero's photographs have been widely exhibited in solo and group exhibitions throughout the United States and abroad, and have been featured in numerous newspapers, magazines and online including Le Monde, New York Times and Salon. Born in Atlanta, she is a graduate of the University of North Florida, where she earned a BA in Photography and a BFA in Ceramics in 1999. Nominated for the Prix Pictet in 2014 and the Deutsche Börse Photography Foundation Prize (longlist) in 2021 and a 2020 BMW Residency finalist, Morris-Cafiero holds a MFA from the University of Arizona in Art. The Magenta Foundation published her monograph, The Watchers, in 2015 and Fall Line Press published her second monograph, The Bully Pulpit, in 2019. Morris-Cafiero is represented by TJ Boulting Gallery in London and is a Senior Lecturer in Photography at the University of Northampton.
Join using this link. All welcome.