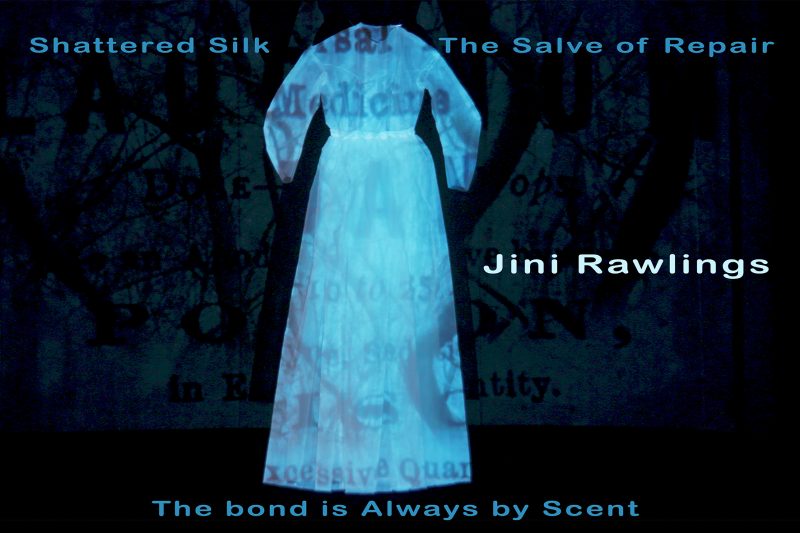 Silk is used as a metaphor for some of the entangled stories of women in the turbulent 1860s when, as now, class and race and gender were foregrounded, and global events affected local lives. This exhibition, by Jini Rawlings, combines handsewn silk and digitally printed cotton costumes, interpretive dance and interactive video.
"Each costume is inspired by different real or fictional characters. They are based on extensive background research and personal response as a late discovered adoptee to histories of precarity.
My birth ancestor Sarah was a silk ribbon weaver in Coventry when the industry was on the point of collapse through free trade agreements (1861). The interactive touch-sensitive tussah silk dress triggers video projections of a dancer1 improvising in response to some of these histories" – Jini Rawlings
Harriet Martineau, middle class sociologist and writer and Sojourner Truth, with personal experience of slavery were both long term abolitionists when the American Civil War was being fought and the Lancashire cotton famine was at its height (1862-5). The digitally printed cotton costume reflects their common use of sewing and knitting to reflect different positionalities.
Two-year-old Eppie and her mother Molly are characters in Silas Marner, The Weaver of Raveloe, (George Eliot.1861) This was a time when the poor were castigated for drug abuse while the middle classes frequently used laudanum, an opium tincture as a medical aid. When Molly dies in the snow from an overdose of opium Eppie follows a bright glancing light through the open door of the weaver's cottage. She represents the liminal state between being lost and found. The hanging organza silk dress and the video projection explores some of this in-between experience.2
A touch sensitive interactive box uses Cash's name tapes and etymology pins to link some of the threads through short video sequences.
This was originally shown in Nuneaton Museum and Art Gallery from September- November 2022 with museum items relating to the life of George Eliot.
1 Where you are when you don't know where you are is one of the most precious spots offered by improvisation. It is a place from which more directions are possible than anywhere else. I call this place The Gap') This 'gap' or moment of possibility is an existential state, a suspension of reference points in which new experiences become possible. (Contact quarterly spring/summer Stark Smith, 1987: 3
2 Traumatic experience is not a story but a cascade of experiences, eruptions, crevasses, a sliding of tectonic plates that undergird the self. Kirmayer, L. J. (1996). Landscapes of memory: Trauma, narrative and dissociation. In P. Antze & M. Lambek (Eds.), Tense Past: Cultural Essays on Memory and Trauma (pp. 173-198). London: Routledge.