Fragments and Narratives: Reflections on a Residency at the V&A – Stephen Dixon
---
This essay was written by ceramic artist and Professor of Contemporary Crafts at Manchester School of Art, Stephen Dixon.
---
In the Hollywood movie Night at the Museum (2006) American Museum of Natural History night watchman Larry Daley (Ben Stiller) is terrorised by prehistoric skeletons, waxwork figures, stuffed monkeys and warring miniature armies that come to life after opening hours to rampage through the museum. Hilarity ensues.
Artistically, this film may not represent Hollywood's finest hour, but the fanciful notion that 'enchanted' museum exhibits might somehow come to life is an interesting one, and not unique within the Hollywood canon; Boris Karloff's re-animated ancient Egyptian priest Imhotep similarly terrorised the staff of the Cairo Museum inThe Mummy (1932).
The idea that inanimate objects can become mysteriously or magically animated is a pervasive and universal narrative. It persists in myth, folklore, classical literature and contemporary art: the clay Golem comes alive to defend the Prague ghetto, Ovid's love-struck sculptor Pygmalion brings his ivory statue of Galatea to life[1], the wooden toy Pinocchio dreams of becoming a real boy and his dreams come true[2]. Closer to home, the porcelain figurines in Barnaby Barford's film Damaged Goods come to life before our eyes to act out their tragic love story[3].
Perhaps all of these examples are manifestations of something more fundamental and deeply rooted, embedded in our understanding that crafted objects, and especially museum objects, are imbued with life, that they resonate with humanity and meaning and have enchanting stories to tell us – sometimes great stories, sometimes small stories – about the circumstances of their manufacture and the lives, times, beliefs and practices of their makers. Maybe this is why we empathise with crafted objects, and why, as makers of things ourselves, we are enchanted by museums, as the custodians of these fantastic objects. And it might be why we are prepared to buy into the underlying, albeit ridiculous conceit of Night at the Museum.
My own nights at the museum (78 in total) took place during a residency in the newly re-furbished Ceramics Galleries at the Victoria & Albert Museum, which opened in September 2009. This was an extraordinary and exciting time to be a museum 'insider', taking part in the opening events and celebrations and watching the new galleries and displays slowly taking shape. Although I didn't emulate Larry Daley's all-night shifts, the evenings at the V&A were one of the best times to work, after hours, when the galleries had emptied and all was quiet.
At that time, the ceramics studio residency was the latest manifestation of the V&A's on-going experiment into the creative interaction between artist and museum, and part of a wider multi-disciplinary programme of artists' residencies. It came with an open brief: to make new work in response to the museum's collections, and to find ways to engage the public in this process. Unlike similar residencies, there was no expectation to produce a finished body of work by the end of the six-month tenure.
To a maker, behind the scenes access to such an extraordinary and extensive collection is an enormous gift, but also a massive challenge, and my first task was to find a focus. Walks through the museum's 145 galleries revealed new treasures and suggested new creative possibilities on a daily basis, and I was at first guilty of starting one new line of enquiry after another:
A marble bust of Queen Victoria,
Leonardo's tiny sketchbooks,
Drawers of ceramic shards,
……everything was engaging.
The ceramics collection card indexes,
A fake 'Egyptian' alabaster figure,
The great bed of Ware with its graffiti'd headboard,
……everything had potential.
A Meissen porcelain goat,
Some hand-made turning tools from Jing-de-Jen,
A marble sculpture of Pandora,
……what should I do?
Now, looking back on the residency from the perspective of almost four years, it's a little easier to reflect on the experience, to assess the impact of the residency on my practice and to begin to understand the themes that have evolved from these daily encounters with objects. Broadly speaking, everything I have made since 2010 owes its genesis to the six months I spent in the V&A ceramics studio. Looking back across all of this work, three clear research strands can be seen to have emerged.
The portrait
The first 'thing' that I made during the residency was a mosaic portrait of Queen Victoria, a public participation piece, hurriedly conceived for Ceramica, a weekend of ceramic activities to celebrate the opening of the new ceramic galleries[4]. This rather random choice of subject nevertheless established an interest in the genre of the portrait bust, looking at the ubiquity of the bust as a multi-cultural form, as well as its role as an indicator of social prestige and political status. I became particularly interested in the concept of 'heroic' portraiture, and the way that monumental public portraiture of heroic figures such as Admiral Nelson and Chairman Mao is translated into a more personal and democraticidiom through its remediation into ceramics. This led to a number of pieces, which adopted the portrait bust format, and culminated in the Restoration Series, which focused on three prisoners of conscience and Nobel Peace Prize winners, you might say my own political 'heroes'[5].
The archive
I quickly became fascinated by the archive material at the V&A, particularly the labels, inventories, and collection card-indexes, which catalogue the acquisition, condition, provenance and whereabouts of every item since the museums opening in 1852. I found the physical and graphic narrative of these documents as revealing as the factual information they contained; the copperplate handwriting of early curators, the regular condition checks stamps, the scribbles, crossings out and corrections. I initially used this material in a series of collaged drawings of museum objects, which employed printed archive material to locate these objects within their museological context. Subsequent work using digital ceramic printing has positioned this kind of archive material more centrally within pieces which use visual narratives to evoke history, memory and location (for example, the Liguria Series of plates, 2013).
The fragment
The V&A has an extensive collection of archaeological material; drawers and drawers of ceramic shards from kiln sites around the world, categorised by date and geographical location. At first I wasn't sure what it was that drew me repeatedly to these fragments, why I was interested in the drawers of broken pieces rather than the perfect specimens in the showcases. I came to realise that what attracted me was their incompleteness, that they were 'open' to interpretation and imagination, that the viewer might re-invent and re-imagine them into a vessel or a sculpture. This idea was explored quite literally in 'Excavate' at BCB 2013, which took the form of a performative archaeological dig on the site of the Spode factory in Stoke-on-Trent. The project combined factual archaeology with fictional 'findings', culminating in the excavation, restoration and display of an imagined historical object, Josiah Spode's violin.
Of course, none of these individual strands exists independently of the others. One recent piece combines all three themes in equal measure: Letters from Tripoli originated in a chance flea-market find, an archive of official documents and personal correspondence relating to an Italian prisoner of war in North Africa. I used this material as the starting point to create a fictional narrative, adopting the form and conventions of an archival cabinet, in which the original documents were fleshed out with items excavated from my own somewhat random studio 'collection' of objects and ephemera.[6] I felt the most successful part of this piece was a small group of ceramic fragments, collected in northern Italy (and therefore to some extent 'authentic') and re-surfaced with details printed from the Italian documents.
These small, physical fragments were re-invented as fragments of fictional/ fanciful narratives, which, like the displays in Night at the Museum became re-animated in the imagination, in this case creating a portrait of the Italian soldier.
For me, these ceramic fragments embody the realisation of my V&A residency. They epitomise a relationship with the museum as creative muse, as a catalyst for creative encounters with objects, and as an environment that both triggers and empowers imagination.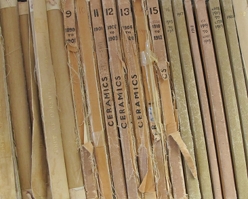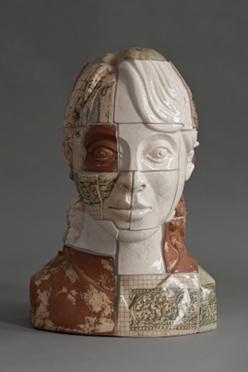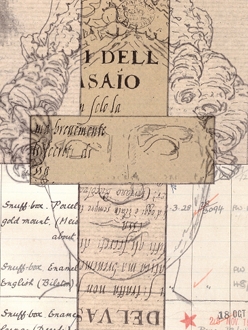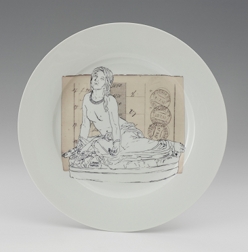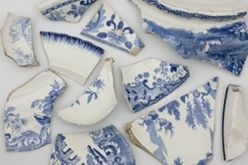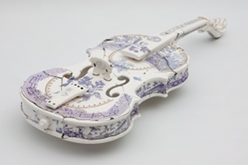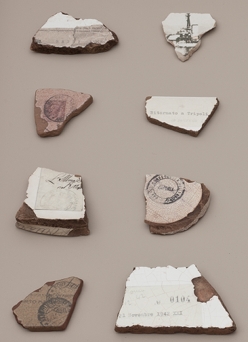 Notes
[1] Ovid, the Metamorphoses, book X.
[2] Collodi, C. The Adventures of Pinocchio, 1883.
[3] Barford, B. Damaged Goods, 2010. http://www.barnabybarford.co.uk/image_gallery/damaged_goods
[4] See my residency blog page http://www.vam.ac.uk/b/blog-archive/39/200909
[5] See Teleri Lloyd-Jones, "Peace Talks," CRAFTS no. 242, May/June 2013.
The three Nobel Peace Prize winners are linked by the fact that they were unable to receive their awards due to incarceration as prisoners of conscience in their own countries. Carl von Ossietzky (awarded 1935) perished in a Nazi concentration camp in 1938. Aung San Suu Kyi (awarded 1991) has since been released and collected her award in 2012. Liu Xiaobo (awarded 2010) is currently serving an 11-year prison sentence in China.
[6] Shown in the exhibition Memoranda at the Crafts Study Centre, Farnham in July 2011. See Peters, T. and West. J. (eds) Memoranda, (Luminous Books, London, 2011.)