Disturbance in the Museum – Laura Breen
---
This essay was written by Laura Breen, PhD researcher at the University of Westminster.
---
'It is rare for the V&A to have to close its doors for anything other than a bomb scare these days, but on Friday, 2nd January we did. The reason was a simple, if unusual one. There was just no room for any more visitors to be packed into that vast twelve-acre site. Some seventeen thousand people poured through the Museum that day and even our crow's nest, the Ceramics Galleries, bustled with life. Pandemonium was let loose, whole families, up for the day from the suburbs and regions, seemed to arrive in battle formation. It was wonderful, it was exhilarating, it was a triumph and it was evoked by a single event…'[1]
Conjuring images of the bustle generated by the Victoria and Albert Museum's Friday Late programme or the social gatherings around the immersive works in Tate Modern's turbine hall, the event being described was, in fact, held in 1976.[2] 'The Makers' saw artist-craftsmen – a term promoted by the recently-formed Crafts Advisory Committee – demonstrating their making processes in the museum's galleries. The Museum's Director, Roy Strong suggested the initiative would encourage visitors to purchase contemporary craft objects, particularly those on sale in the British Craft Centre's shop within the museum.[4] Additionally, ceramics practitioners Walter Keeler and Mo Jupp were sited alongside historic objects in the hope that visitors, observing their object-making skills, would gain a greater understanding of the museum's collections.[5]
Strong clearly relished the publicity 'The Makers' generated, but the experience also forced museum staff to reconsider their capacity to accommodate live events.[6] This disruption was an unintended consequence of the public clamour to view the spectacularized performance of studio craft.[7] However, museums were beginning to question other aspects of their practice at this stage. Responding to theoretical and artistic challenges on their claims to neutrality and representation, those pursuing 'The New Museology' placed an increasing onus on self-reflexive curating and polyvocal interpretative approaches. Regarded as part of this shift towards 'the purposes, not the methods', of museums, The Makers might be read as a display of critical awareness – providing an alternative to text-based provision and chronological display.[8]
By positioning 'The Makers' alongside established 'museum pieces' the V&A related contemporary making processes to historic ones. This prepared the ground for the forthcoming integration of contemporary objects into the permanent displays by privileging a narrative of continuity; however, the disjuncture between the collections objects and Jupp's 'ceramic sculpture' undermined this strategy.[9] His demonstration – an exercise in hand building to a specific and individualistic end – provided a contemporary model of practice that was distinct from more general skill-based demonstrations, which located craft in the past.[10]
Fine art practitioners had been engineering such ruptures – discussed under the banner of institutional critique – since the late 1960s, usually to highlight the partiality of existing museum narratives. With its own institutions and systems of validation and a continued focus on object making, the ceramic field largely operated at a distance from these developments. However, in the late 1980s museums began to commission artists to produce works that interrogated their collections and protocols. Some of these initiatives addressed or included ceramics, for example, Jo Stockham's Neutral History – part of 'Palaces of Culture: The Great Museum Exhibition' at Stoke-on-Trent City Museum and Art Gallery (1987). Inserting stories of child labour and ill health into the ceramics displays, Stockham undercut the existing narratives of male progress and industrial prosperity and challenged their apparent objectivity. [11] Adopting a less orthodox approach, Neil Cummings and Marysia Lewandoska's fittingly-titled Use Value (2001) confronted another museum norm – the aestheticizing display of tableware. Playing sounds of cups and plates being used and, occasionally, shattering, into the V&A museum's ceramic galleries, they highlighted the limitations of ocularcentric interpretation. Focusing on their use as pedagogic tools, Clare Robins and Miranda Baxter have characterized such interventions as 'disruptions to the normative contours of museum and gallery discourse', which 'destabilize fixity of meaning and subvert hegemonic narrative.'[12] Foregrounding the dialogic potential of ceramic objects and practices, they can also disrupt the normative contours of ceramic discourse.
Some projects have exploited this capacity to challenge preconceptions about ceramic objects, for example, the site-sensitive exhibition 'The Uncanny Room'. Held at Pitzhanger Manor and The Bowes Museum in 2002, it included ceramics-based works such as Richard Slee's phallic Bedroom Snake (2001) and Hans Stofer's Beaker (2002) – a broken cup held together with steel chain, so that it was complete, but could not serve its original purpose – alongside works in other traditional craft media. Strategically located through the room sets, the objects had an unsettling presence, disturbing the veneer of domesticity. Describing the ideas behind the venture, co-curator Tessa Peters proposed:
'On one level the exhibition subverts the popular conception that the most laudable objective of the craft object lies in its combination of beauty and utility, thus fulfilling the role of enriching our everyday lives.'[13]
However, whilst the low status of the crafts in relation to that of fine art has been much debated, this 'popular conception' was grounded in craft discourse and had been perpetuated through the writing of figures such as Bernard Leach and Peter Dormer.[14] Indeed, artists had been exploring the surreal connotations of familiar objects for almost a century. Instead, the exhibition demonstrated that craft practitioners could, similarly, shift the frame of reference through which their works were read by attending to their discursive qualities. In doing so it spotlighted the restrictive purview of interpretative techniques that focused on medium, technique and aesthetics.
As curator and art historian Lisa Corrin has observed, museums today promote themselves as centres of ideological debate and often commission artist interventions to evidence their critical engagement.[15] These projects, many involving ceramics practitioners, have proliferated since the turn of the century. Some, such as Edmund De Waal's Modern Home (1999) and Arcanum (2004), Rob Kesseler's work for the V&A's 'Extending Traditions' exhibition (2001), and Andrew Livingstone's Parallax View (2010), have sought to challenge preconceptions about the place and role of ceramics. However, by the 1990s – the point when these works were attaining a prominent position in ceramic discourse – artists had also begun to consider how artistic, social or political, practices might operate as institutions in their own right. In his overview of the history of institutional critique Alexander Alberro explained: 'this often entails creating connections between art practice and the various democratic struggles against different forms of subordination.'[16] Furthermore, 'post-critical' approaches to museums had begun to acknowledge the limitations of the physical institution and reimagine museums as part of a distributed network of exchange and research for contemporary practitioners.[17] From this perspective, museums, like other sites, could be regarded as places through which artists could engage with the issues that concerned them without necessarily providing their conceptual focus or housing their works.
This approach to critique is evident in work such as Ai Wei Wei's Sunflower Seeds (2010). Whilst it was located in a major gallery – Tate Modern – the artist exploited on the turbine hall's broader role as a public space to address the human side of outsourced production and global exchange. As with 'The Makers', the operation of the gallery was temporarily interrupted by 'the enthusiastic interaction of visitors' – on this occasion because of fears about the levels of dust created when they walked over the porcelain seeds.[18] However, although gallery-goers were subsequently barred from entering the work as a result, this action raised questions about the working conditions of those who had made the seeds. Moreover, whilst the institution decreed 'In order to maintain and preserve the landscape as a whole, Tate asks visitors not to touch or remove the sunflower seeds,' the appropriation of the seeds was well documented.[19] Certainly, many visitors took those seeds, which were hand-painted by artisans in Jingdezhen – the famed home of imperial porcelain production – to their own homes. Fascinated by this reaction, Bexley Heritage Trust held an exhibition on the subject in 2013, with each example accompanied by the story surrounding its acquisition. These narratives, which ranged from the tale of an art transporter who hoarded spilt seeds, to that of a man who took a handful and distributed them around the world as he travelled, showed the agential power of the prosumer.[20]
Describing visitor responses to works in the turbine hall, Dr Helen Rees Leahy has argued that 'the performances of visitors may simultaneously engage with museological spaces and objects whilst resisting the institutional performative.'[21] In the era when artists are employed as the 'agents of change' in the museum this is sometimes forgotten.[22] For Ai Wei Wei, the sharing of sunflower seeds during Mao Zedong's Cultural Revolution was 'a gesture of human compassion, providing a space for pleasure, friendship and kindness during a time of extreme poverty, repression and uncertainty.'[23] For Tate curator Juliet Bingham they were 'a beautiful sculpture' and an opportunity to address questions about the individual in society.[24] For the visitors, whose opportunities for physical engagement with the work were limited to supervised handling sessions, it might be conceived as chance to demonstrate the power of individual agency within the 'landscape as a whole'. Their responses, therefore, made apparent something that is true of all artworks, whether they demand physical interaction or are ostensibly static: we make meaning from them according to our own experiences. Viewed in this light, breaking and re-making go hand in hand, visitor responses can disturb as well as be disturbed, and our interactions with art provide occasions to reimagine ourselves as well as our institutions.[25]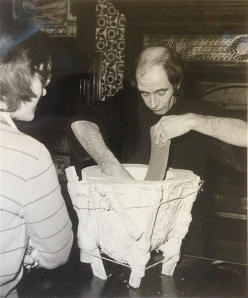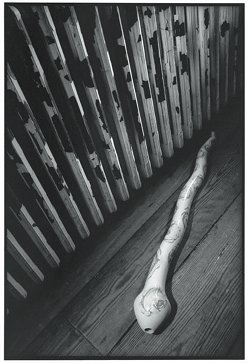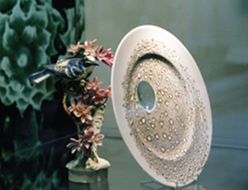 Notes
[1] Dr Roy Strong, Draft article for Times Educational Supplement, March 1976, Box MA29 [Press office file], folder 219, The Makers: Artist Craftsmen at Work, 29 Dec – 3 Jan 1975, Victoria and Albert Museum Archive.
[2] Established in 1999, the V&A's Friday Late programme aimed to 'make a visit to the V&A an interactive rather than a passive experience.' V&A, Contemporary programme, Year Two Report, April 2000-March 2001, V&A Museum, 2001, 3.
[3] The title of the programme, which ran from 29 December 1975 to 3 January 1976, was taken from Edward Lucie Smith's book World of the Makers, which focused on the human and aesthetic significance of the crafts. Edward Lucie Smith, World of the Makers, New York and London: Paddington Press Ltd., 1975.
[4] This was a return to the museum's founding role as tastemaker; however, Ceramic Review also described The Makers as 'One of Director Strong's schemes to popularize the museum', reflecting the ambiguous place of contemporary practice in the museum at the time. Ceramic Review, 38, 1976, 3.
[5] Museums Association, 'The Artist Craftsman and Museums Today. Joint report of one day seminar held in London, 5th April, organized by the Crafts Advisory Committee and the Area Museums Service for South Eastern England with the support of the Museums Association', Museums Journal, vol. 77, no.1, 1977, 25-28.
[6] Eileen Graham, The Makers 1976. Notes of a Meeting held in Madeline Mainstone's office on Monday 24th May, 1976, The Makers: Artist Craftsmen at Work, 29 Dec – 3 Jan 1975, Victoria and Albert Museum Archive.
[7] Namita Gupta Wiggers has argued that such displays 'provide[s] an illusion in which audiences perceive that they have witnessed the making of an object like the finished objects in the booth.' Namita Gupta Wiggers, 'Craft Performs', Valerie Cassel, ed., Hand + Made: The Performative Impulse in Art and Craft, Houston: Contemporary Arts Museum, 2010, 27-33.
[8] Peter Vergo, The New Museology, London: Reaktion Books, 1989, 3.
[9] In 1976 there were few contemporary ceramic objects in British museum collections. The V&A's contemporary collecting activities were largely confined to its touring and educational arm – the Circulation Department – until its closure in 1977 when they were integrated into existing departments.
[10] See Glenn Adamson, 'Craft and the Romance of the Studio', American Art, vol. 21, no. 1, 2007, 14-18.
[11] I address Palaces of Culture in more detail in my forthcoming PhD thesis Re-modelling Clay: Ceramic Practice and the Museum in Britain (1970-2013).
[12] Claire Robins and Miranda Baxter, 'Meaningful Encounters with Disrupted Narratives. Artists' Interventions as Interpretative Strategies', Suzanne Macleod, Laura Hourston Hanks and Jonathan Hale, eds, Museum Making. Narratives, Architectures, Exhibitions. London: Routledge, 2012, 247.
[13] Tessa Peters, 'Introduction: The Uncanny Room', Tessa Peters and Janice West, eds, The Uncanny Room, London: Luminous Books, 2002, 5.
[14] Peter Dormer, 'Notebook re: ceramics exhibition ICA Spring '85. Preliminary ideas. Attn: Declan McGonagle', ICA collection [manuscript] 955/7/7/29, London: Tate Archive, 1985. This view was also reflected in Antony Gormley's conversation in the A Secret History of Clay catalogue. Anthony Gormley and James Putnam, 'In Conversation', Edmund de Waal and Simon Groom, eds, A Secret History of Clay: From Gauguin to Gormley, London: Tate Publishing, 2004, 84.
[15] Lisa Corrin, 'Mining the Museum: Artists Look at Museums, Museums Look at Themselves', in Bettina Messias Carbonell, ed., Museum Studies: An Anthology of Contexts, Oxford: Blackwell Publishing, 2004, 4.
[16] Alexander Alberro, 'Institutions, Critique and Institutional Critique', Alexander Alberro and Blake Stimson, eds, Institutional Critique. An Anthology of Artists' Writings, Cambridge, Mass and London: MIT Press, 2009, 14.
[17] Andrew Dewdney, David Dibosa and Victoria Walsh, Post-Critical Museology. Theory and Practice in the Art Museum (London and New York: Routledge, 2013.
[18] Mark Brown, 'Tate Modern rethinks Sunflower Seeds show after health fears', Guardian, October 15, 2010. accessed June 12, 2014, http://www.theguardian.com/artanddesign/2010/oct/15/tate-modern-sunflower-seeds-ban.
[19] Tate, 'Unilver Series: Ai Wei Wei: Sunflower Seeds: Interpretation Text', 2010, accessed June 12, 2014, http://www.tate.org.uk/whats-on/tate-modern/exhibition/unilever-series-ai-weiwei/interpretation-text.
[20] Alice Jones, 'Piles of stolen Ai Wei Wei sunflower seeds grow as Couriers of Taste exhibition idea succeeds', Independent, May 9,2013, accessed June 12, 2014, http://www.independent.co.uk/arts-entertainment/art/news/piles-of-stolen-ai-weiwei-sunflower-seeds-grow-as-couriers-of-taste-exhibition-idea-succeeds-8609398.html. See Stephen Knott, 'Design in the Age of Prosumption: The Craft of the Design after the Object', Design and Culture, vol. 5, 1, 45-68.
[21] Helen Rees Leahy, 'Watch your Step: Embodiment and Encounter at Tate Modern', Sandra H Dudley, ed., Museum Materialities, Oxon and New York: Routledge, 2010, 170-171.
[22] Chris Dorsett, 'Making Meaning Beyond Display', Sandra H Dudley, ed., Museum Materialities, Oxon and New York: Routledge, 2010, 241-259.
[23] Tate, 'Unilver Series: Ai Wei Wei: Sunflower Seeds: Interpretation Text', 2010, accessed June 12, 2014, http://www.tate.org.uk/whats-on/tate-modern/exhibition/unilever-series-ai-weiwei/interpretation-text.
[24] Tate, 'Unilver Series: Ai Wei Wei: Sunflower Seeds', 2010, accessed June 12, 2014, http://www.tate.org.uk/whats-on/tate-modern/exhibition/unilever-series-ai-weiwei-sunflower-seeds.
[25] Alberro has also delineated a parallel strand of critical practice, which is disseminated through spaces and techniques that stand outside of the field of art. However, he suggests 'With the ideals of the institution of art, and of other Enlightenment institutions of public subject formation, in ruins, artists who continue to work in the legacy of institutional critique are left to choose between contemplating the moribund cultural apparatus and engaging with social conflicts far beyond it. The most interesting art being produced today fuses these irreconcilable positions.' Alexander Alberro, 'Institutions, Critique and Institutional Critique', 18.