Are You Land or Water? Love Notes to Buddhas – Linda Sorkin
---
This essay was written by ceramic artist Linda Sormin, Professor of Ceramics at Sheridan Institute, Canada.
---
Installing in a Museum is like making one's way in a new country. As a visitor, I learn rules of the culture: when the building opens and closes, where to eat lunch, how to get doors unlocked, what tools my team can use, which safety precautions to take, what the curators and staff value most, and what is considered too early, too late, too heavy, too high, too fragile, too risky, too dirty, too rotten, too much.
You are my lost and found buddhas, my ready-mades from the Sui, Tang and Song dynasties. I've been commissioned to make new work for the Thing Tang Trash[1] exhibition at Permanenten.[2] Walking through the Museum, looking for a place to build, I see you for the first time: eight life-size marble buddha and guardian figures lined up stiffly against a yellow wall. You are introduced to me as the "China Collection", along with neolithic pots, blue and white vessels, a Han horse and camel, bronze and earthenware objects from ancient Chinese burial sites.
Some of you have lost your heads. Most people walk by quickly. A few tourists stop for photos, posing behind you. Their laughing, bobbing faces stand in for yours. I ask for time alone with you. I sit on the green marble floor, drawing you from different angles. You have pencil marks on your backs, and you're shorter than I thought you'd be.
You are as out of place here as I am. Do you miss Yuanming Yuan, the summer palace? What do you remember of your first Norwegian snow? Did you look up, eyes wide… stick out your tongues to taste the new country?
I will lace you with porcelain, embroider you with stories and raw clay. I will coax you slowly from your plinths. I will build you a boat so you might travel to new lands, roam the oceans at will, or make your way home.

Process
For me, as for many artists, acts of making are site-specific, hands-on and durational. To make space for new discovery in any particular place or situation, how might I loosen my grip on language and methodology? Where is there opportunity to reshape my material, visual, spatial, conceptual and kinetic expectations?
Research includes scavenging, collecting, disassembling and rebuilding fragments into new forms. Here in the studio, I write on scrap paper. I slice through paragraphs with scissors and let thoughts of the buddhas spread across the table – they scatter then re-align themselves, awkward and alert. I sift through my notes from Norway here, look at images of the installation there. My kilns are firing in the corner, a ceiling fan pushes around the loose papers, I piece my thoughts together with glue.
Last year, in the studios of KHiB, the Bergen Academy of Art and Design, I worked for most of August and September rolling, pinching, cutting and pasting bits of clay into porous ceramic forms. Initially, the shapes were based on motifs I found on marble pedestals under and near the guardian figures in the Chinese Collection at Permanenten: clouds, mountains, mythical birds.
By the third week, I began to find and press small figurines and kitsch objects into larger clay forms. Building directly on the bed of the ceramics studio car kiln, I extruded and assembled hollow tubes into open, curvilinear forms. I attached spare parts with leftover studio glazes. Gestural objects became sites inhabited by poodle-shaped salt and pepper shakers, a Royal Copenhagen Christmas plate, miniature ceramic skulls, shards of wood-fired pottery by Elisa Helland-Hansen.

From the art school dumpster, I gathered discarded objects and materials: glued plywood and plastic furniture, chunks of styrofoam, broken dishes and wet lumber. Our curator Heidi Bjorgan, the collaborative group Temp, and other local artists responded to my emailed requests by donating their fragments and seconds to the project. Over the remaining weeks, whenever we noticed a pause in the pouring rain, my partner Seth and I loaded carts with piles of garbage and gifts, then pushed them along both cobblestone and paved main streets to the Museum.
Hand-crafting and hand-writing, found objects and found stories – they intersect and overlap. Here on a page, there in the space of the Museum. Restless, unruly, and temporary in the midst of the permanent collection, fired ceramic forms cling to wooden scaffolding, office chairs, a brass box, a dusty-rose fabric lampshade and a Chinese checkers set from BIR, the nearby waste management facility. Mid-air, poised to dive before the Buddhas, is my wooden drawing of a long, narrow fishing vessel, the Norwegian Nordlandsbåt.[3]

Story
Like old countries, museums brim with drama.
One recent afternoon in Bergen, cat burglars entered the Museum through a wall, above the Chinese Collection. Treasures from the Forbidden City were stolen with great skill and finesse. In a wing of elegant, emptied display cases, no glass was broken. You must have seen them coming, from below.
The buddhas travelled by boat from Beijing to Bergen, a gift to the Museum from Johan Munthe (1864-1935), a Norwegian general who lived in China for most of his life. I marvel at the scale of the containers, the heft of the weathered wooden crates, the charged space surrounding each figure.
Some time after their arrival, the Museum shipped the buddhas to the United States in an attempt to raise badly needed funds. They didn't sell however, and were somehow lost for years in the garden of a college in California. It wasn't until a lone curator one day discovered paperwork indicating their existence that the buddhas were noticed to be missing at all. National treasures come and go.
Did you receive a proper welcome when you returned? Were there speeches and ceremonies in your honour? Tell me the story, let me stand close to you:
I will tie a red string to your wrists and link them to mine. To his over there, to hers in the doorway, and we will continue until the whole room is a taut, delicate web and we are all drawn in together, tenuous and tender.
I am told in no uncertain terms: we mustn't touch, or even brush against. So I tie my strings to other things and lean them in towards you.
From behind me, I hear the sharp, in-drawn breath of the disapproving mother, the Museum's protector of the Chinese Collection in recent years.
Her eyes are wide, and not with joy, as she takes in my newly built structures, high wooden scaffolding pouring through the line of buddhas. We are too close for her comfort.
I am adding soft clay to a spray of used materials around the Han dynasty horse.

What do you think? I ask.
She shakes her head several times: I will tell you later.
I don't see her again after that.
Play
My little brother and I help to clean our father's church. In the sanctuary, we vacuum, straighten up hymnals and bibles, hand-polish each pew and pulpit with Pine-Sol. When everything is perfect, ready for services (and if no adults are around) we pull off our shoes, step up onto the gleaming pews and chase each other across the narrow benches. Leaping from seat to seat, we zig-zag through sacred space in our socked feet.
Installing work in the permanent collection feels like running in church. Growing up as preacher's kids, we knew the space intimately. We sang and recited up front; we did our chores backstage. We navigated politics, overheard family secrets. The church and the museum – built to hold and uphold values and objects of culture. Valued objects, cultural objectives, objectionable values. Doubt and dissent take seed early on, behind the scenes.

In very close proximity to the Buddhas, my team and I bend long slender pieces of wood into the dramatic curves of a Nordlandsbåt. The physical tension in the curves is so great that it takes two of us to hold the pieces tightly as Seth screws them into place. The material flexes, approaches its breaking point and threatens to spring away from the linear structure. Scaffolding built from old floorboards and other scrap materials angle through the group of guardian figures and through the wooden drawing of the boat.
Handbuilt ceramic forms (some tiny and others monumental) move in clusters through the space of a fictive waterway. Above, behind, before and below, the roughly built shapes obscure Museum visitors' sightlines to the buddhas. As an alternative to easy viewing, the wooden scaffolding offers a spatial experience. The work is not so much an intervention, but an invitation for "viewers" to venture closer, to enter and activate this space. I watch people slow their pace and begin to explore the new and old forms layer by intimate layer – not just visually, but in relation to their bodies as well.
Are you land or water?
You've stood silently for centuries – witnessing, weathering wars and revolutions. You are buddhas built to last, to wait out even the second coming. As our next disaster slouches toward Bethlehem[4], show me quickly how to meet the future.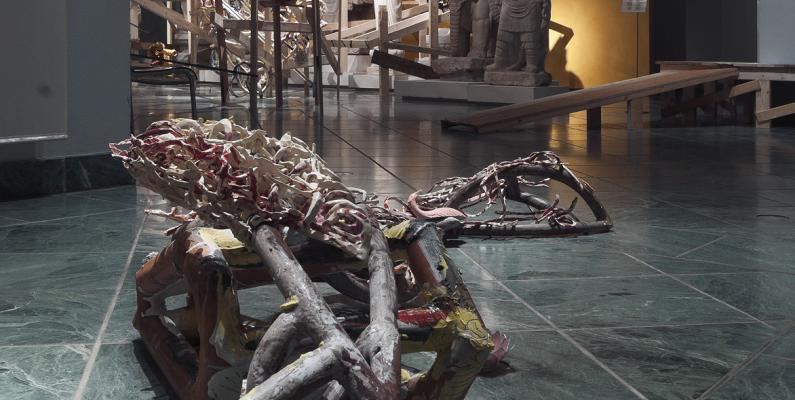 Do you move easily with the changing currents? Shatter into a million flying crystals, break with joy against the rocks? Do you smell of salt and change and upheaval?
Or are you rooted, deep in time and territory? Can you offer higher ground? Do I survive by climbing to safety? Are you my promised land?
Linda Sormin, Givat Haviva, Israel, 2012
Photo credit: Dag Fosse
Notes
[1] Catalogue: Thing Tang Trash. Upcycling in contemporary ceramics, ed. by Jorunn Veiteberg. Bergen: Bergen National Academy of the Arts and Art Museums Bergen, 2011.
[2] The West Norway Museum of Decorative Art in Bergen, Norway.
[3] Traditional fishing boat in the Norland region, closely related to ancient Viking longships. Historically dominating the regional fishing industry, it was a leading factor in Bergen's development into a major port.
[4] Lines from The Second Coming, poem written in 1919, in the aftermath of World War I, by William Butler Yeats.