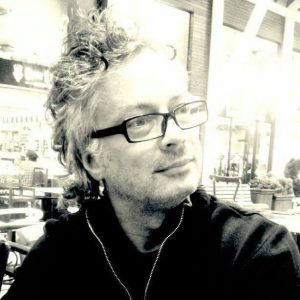 Michael Goddard
My research broadly falls under the areas of transnational cinema, media theory and popular music. In terms of the former, I have especially developed an international profile in European cinemas. This is evident from my numerous book chapters and journal articles in this field, including my articles for Studies in French Cinema and Framework, as well as a chapter on the Polish New Wave in the Blackwell Companion to Eastern European Cinemas (2012). My international reputation in the field was further developed through my co-editorship of the Studies in Eastern European Cinema that quickly became the leading journal in this field. This transnational focus also informed my monograph on the cinema of Raúl Ruiz, Impossible Cartographies (2013), which was the first comprehensive academic work in English on this important filmmaker.  I am also a media theorist, especially in the fields of media ecology and media archaeology, as well as in digital media. In terms of the former, this methodology informed the special "Unnatural Ecologies" issue of Fibreculture I co-edited with Jussi Parikka, which has been widely cited and has had a significant impact on the field. In media archaeology, my most significant contribution is my monograph, Guerrilla Networks (2018), the culmination of my media archaeological research to date, which was published by Amsterdam University Press. I have been invited to present my media research in Brazil, the US, Canada, Australia  and Germany, as well as in the UK.
My most significant externally funded project was the Science without Borders/CAPES funded "Special Visiting Researcher" fellowship for the project: "The Social Media Mapping of Popular Music Scenes" (2014-2016). This project was valued at 65,000£ in total and included in addition to extensive research periods and pedagogy in Brazil, hosting of a number of PhD and postdoctoral researchers in the UK, including Thais Aragão at the University of Westminster in 2016/2017. The project involved researching and mapping a range of music genres in Porto Alegre, Brazil, with reference to international research om music, mapping and urban space. Other significant projects include the two already mentioned monographs, two edited journal issues on the return of Twin Peaks in 2016, the edited collection Music/Video (Bloomsbury, 2017) and the successful international conference Trans TV which took place at Westminster in September, 2017, and is leading to a series of outcomes in Critical Studies in Television between 2018 and 2020. Currently I am writing a fourth monograph on the music of the British queer underground group Coil, and developing a project for funding on immersive audiovisual media from expanded cinema to VR.
Research Areas
Film and Media
Film and media research is a long standing area of excellence at CREAM, and leads the field for interdisciplinary approaches to moving image practices and their discourses. CREAM research ranges from experimental documentary to moving image installations of international renown.
More