Intervention, Interaction, and the Will to Preserve – Glen R. Brown
---
This essay was written by Glen R. Brown, PhD, Professor of Art History and Associate Head of the Art Department at Kansas State University.
---
In the last quarter of the twentieth century a tide of revisionism swept museum galleries in the West, wreaking havoc on conventional historical narratives that had long conferred cohesiveness, even ostensible objectivity, on practices of display. Under this revisionism familiar historical objects succumbed to recontextualization, yielding new meanings through an artistic curatorship that tendentiously disclosed its own subjectivity and motives. In the critically charged epoch of postmodernism the museum intervention became an effective tool of deconstruction, a means, as Douglas Crimp put it, of revealing heterogeneity at the very heart of apparent homogeneity.[1]
In the United States, Fred Wilson's intervention Mining the Museum (1992), enacted through the collections of the Maryland Historical Society, served as a prototype for artistic exposé of the politics of preservation and display. The most memorable of Wilson's recontextualizations presented a pair of iron slave shackles, dark and reticent, amidst a gleaming gathering of historical Baltimore-made silver vessels. In this confrontation between emblems of opulence and evidence of the "peculiar institution" from which much of that opulence flowed, the museum's fiction of the autonomous masterpiece seemed conspiratorial in cloaking sins of omission.
Although the museum intervention proved effective for institutional critique, it was born with an implicit lifespan. Once it had achieved its objective of exposing underlying dynamics of power in the apparently neutral spaces of preservation and display, it seemed destined to die out or become, as Duchamp warned about his readymades, a source of addiction. In fact, the fate of the museum intervention was a bit more complicated.
From the beginning, museum intervention was practiced with the full approbation of museum officials, many of whom were as steeped in poststructuralist inquiry into the power of institutions as were the artist/interveners themselves. Museum intervention, in other words, was quite obviously intervention by invitation. As it opened a legitimate space for itself among contemporary art genres the intervention shed all appearance of outsider status and became recognized for what it had been from its inception: an inside avenue to institutional self-critique. Although this self-critique proved productive for revealing biases in practices of collecting and display, it stopped well short of placing the museum itself at stake. Not surprisingly, the practice of museum intervention largely gave way to a more patently cooperative artist-and-museum interaction.
In recent forays of contemporary ceramists into the historical collections of museums, interaction rather than intervention has been the norm. The genre is exemplified by Betty Woodman's clay "paintings" produced for the Philadelphia Museum of Art's 2010 exhibition Interactions in Clay: Contemporary Explorations of the Collection. Invited to mount an artistic response to the museum's holdings, Woodman selected as inspiration Robert Adam's eighteenth-century drawing room, a transplant to the Philadelphia Museum of Art from its original location in Lansdowne House, Berkeley Square, London. The rococo neoclassicism of the architecture, epitomizing its designer's celebrated emphasis on movement, was no doubt naturally attractive to Woodman, who has made bright, lyrical abstraction, sinuous line, and decorative patterning central to her work.
Woodman's response to the drawing room neatly contemporized the Adam Style and effectively validated museum interaction as a means of generating new and engaging ceramic art. At the same time, an astute observer could not have helped noticing how very different Woodman's interaction was from an intervention – how much, in fact, it reinforced the logic of the museum at its deepest stratum. Woodman's interaction was decidedly neoclassical not only because of its inspiration in the Adam Style but also, and more importantly, because of its reverance for and investment in the masterpiece. How far removed, after all, is the practice of museum interaction from Picasso's enthusiasm for Ingres, the pilgrimages of eighteenth-century academicians to the Sistine Chapel, or Michelangelo's inspiration in the Belvedere Torso? In short, what better means could there be than the genre of interaction to bolster the museum's walls and validate its will to preserve?
It is not a fault of the museum interaction that it generally does not constitute a critical act, or at least not an act critical of the institution in which it is an invited guest. When it does not masquerade as intervention, museum interaction can hardly be called disingenuous. In fact, its motives tend to be openly acknowledged, even advertised in hopes of rekindling patron interest in permanent collections by offering "a new context for seeing, interpreting, and experiencing an artwork, a collection, or … a given space."[2] Moreover, interactions are ultimately no more subservient to the museum's will to preserve than are revisionist interventions, which drove specters of racism, colonialism, classism, and patriarchy from the niches of exhibition galleries but left undisturbed the ideological underpinnings of the galleries themselves.
What would it be like to expose these ideological underpinnings through the medium of clay within the very walls of the museum? A hint of the possibilities was raised by another work in the Philadelphia Museum of Art's Interactions in Clay. Dramatically situated in the half-light of Temple Hall – a reassemblage of pillars and lintels from the 16th-century Madanagopalaswamy Temple in Madurai, India – Walter McConnell's Calling Earth to Witness formed an eerie semblance of a vitrine enclosing the museum's most deeply repressed bête noire. Within a vertical tube of transparent plastic sheeting an ornately sculpted spire of unfired clay slowly desiccated in blatant defiance of the will to preserve.
McConnell's titular reference to a central act in the founding of Buddhism heaped irony on the rescue of a dismantled Hindu temple from the clutches of time and subsequent suspension of the architectural members for all eternity in an artificially sustained inertia. The museum's apparent triumph over samsara, the endless cycle of life and death, seemed in this context perverse. Like a shaft of sunlight penetrating the quietude and eternal evening of the enclosing gallery, McConnell's illuminated homage to metamorphosis cast the will to preserve as the antithesis of the quest for Nirvana: as an apotheosis of desire rather than an extinguishing.
The will to preserve undoubtedly betrays the desire to possess objects, but this desire may in fact only mask motives much deeper and more obsessive. As the antithesis of pursuit of Nirvana (literally a "blowing out"), the will to preserve implies not a cessation of existence but rather a striving for eternal existence: in effect, everlasting life. In the midst of a Western museum's preservation of an Eastern temple, McConnell's Calling Earth to Witness implicitly evoked issues of cosmology and spirit, suggesting that the museum's will to preserve may to a certain degree arise from a culturally engendered desire for immortality.
This desire was made more explicitly thematic by another 2010 museum interaction-cum-intervention involving clay: Clare Twomey's Forever, at the Nelson-Atkins Museum of Art in Kansas City. Intrigued by a clause in the deed of gift for the Burnap collection of British ceramics – a clause stipulating that the 1,345 objects in the collection be held by the museum "in trust forever" – Twomey produced 1,345 homages to the Sandbach cup, an off-white, salt-glazed-stoneware caudle cup made for Mrs. Mary Sandbach in 1720. On display in rank-and-file order of serial number for the duration of the exhibition, the new cups were later dispersed to the personal collections of 1,345 museum visitors who signed deeds committing themselves to retain and care for the cups forever.
Twomey's Forever, like McConnell's Calling Earth to Witness, employed clay to carry out a subtle form of museum intervention, a revelation of the will to preserve and an implication of its origins in a cultural desire for immortality, but it also hinted at a possible reason why ceramists have taken a leading role in such practice. Recognizing the degree to which concern for aspects of use influences the making of the majority of ceramic objects, those who have produced such forms are likely to be especially sensitive to the paradox of displaying ceramic vessels in museum vitrines and, more significantly, of thereby detaching those objects from the milieu that confers on them a primary purpose. Ceramic vessels can be culturally symbolic, aesthetically moving, and personally expressive, but emphasis of these attributes at the expense of a functional vessel's immersion in life is surely akin to embalming an animal for display rather than permitting it to live out its existence in the wild, or even in captivity.
The natural life of a functional ceramic vessel, like that of something literally alive, is fraught with risk. Scars on vessels – scratches, chips, cracks, discoloration – serve as evidence of engagement of risk and, therefore, speak of authentic experience. One can extend the life of a vessel through care and, when necessary, reverential repair, as in the case of Japanese tea bowls that have been passed down through the centuries, admired, used, and allowed to accumulate a rich patina of experience. The museum pays a hushed homage to that experience but simultaneously seeks to stave off any further evidence of it by preserving objects beyond the effects of time and use. For ceramics, the most obvious and dramatic of these effects is, of course, breakage into sherds: an act that brings to an end the natural life of a vessel as such. As an obvious testament to impermanence, the shattered vessel defies the will to preserve.
Such defiance is overt in Jeanne Quinn's A Thousand Tiny Deaths, installed most recently as part of her 2011 exhibition Ceramic In(ter)ventions at the Kemper at the Crossroads space of the Kemper Museum of Contemporary Art in Kansas City. Consisting of scores of black porcelain vessels slipcast in such historically allusive forms as lekythoi, amphorae, and meiping vases, the installation conjured a melancholy symbolism of death and disintegration squarely within the museum's white-walled sanctums of stasis. Each of Quinn's vessels bore within it an inflated red, orange, or pink balloon to which a string, dangling from the gallery ceiling, was knotted, suspending the vessels precariously in space. As the interior and exterior pressure on the viscerally colored balloons equalized, the vessels dropped like blackened fruit, shattering into a detritus that mocked aspirations to eternity and implicitly berated the will to preserve.
A Thousand Tiny Deaths was, of course, rhetorical: like a reductio ad absurdum, it practiced destruction upon itself to press a point but unleashed no literal violence on the museum's wards. Its immolation of the past was carried out in effigy only. The actual destruction of historical pottery in the name of art, as in Ai Weiwei's 1995 Dropping a Han Dynasty Urn, seems less suitable as a strategy for museum intervention. In the first place, any potential critical value that such destruction might possess within a museum is undermined and obscured by its generally illicit nature. Moreover, such acts as the recent felt-marker assault on Mark Rothko's Black and Maroon at the Tate Modern appear not only patently self-serving but grossly redundant of the notorious 1974 graffiti attack on Picasso's Guernica.
Is there another less wantonly destructive way to critique the museum's will to preserve and challenge its practice of removing such objects as utilitarian ceramic vessels from the medium of time and experience? More importantly, why would anyone wish to do so? Possible answers to both of these questions may lie in an unexpected quarter: not the art world but rather the legal system. In 1990 the United States Congress enacted the Native American Graves Protection and Repatriation Act (NAGPRA), which established "the rights of lineal descendants, Indian tribes, and Native Hawaiian organizations to Native American cultural items, including human remains, funerary objects, sacred objects, and objects of cultural patrimony."[3] By compelling the return of such objects to tribal groups for potential reintegration into ritual, simple handing down from one generation to the next, or even reburial, NAGPRA has done more to expose the cultural origins of the will to preserve and to challenge the museum's devotion to eternity than any intervention enacted in the context of art.
What hints does NAGPRA hold for possible strategies in museum intervention, particularly for ceramists? Are there ways in which functional vessels, now sheathed securely against time by museum glass, might be revivified, at least temporarily, through return to actual use? Could deeds of gift stipulate a periodic reintegration of such objects into life, replete with risks? What would be the consequences of enacting such strategies, both for historical objects and for the cultural ethos that desires their preservation? As a non-critical practice, museum interaction needs no justification beyond its efficacy at stimulating synergy between old and new art. Museum intervention, on the other hand, is a critical tool. As its objective has shifted from a revisionist critique of bias in collecting and display to a confrontation with desire for eternity and the will to preserve, it has necessarily aimed at a more controversial subversiveness. It remains to be seen whether that subversiveness will simply fizzle out, be co-opted by the very institutional powers that it now targets, or shake the museum down to it very foundations.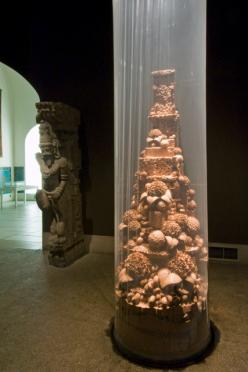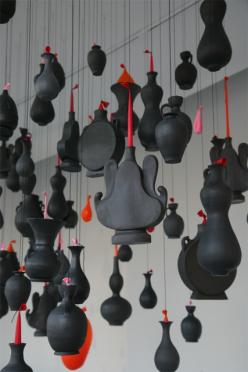 Notes
[1] "On the Museum's Ruins." October 13 (1980): 50.
[2] "Interactions in Clay: Contemporary Explorations of the Collection." The Philadelphia Museum of Art. 30 Oct. 2012. http://www.philamuseum.org/exhibitions/389.html
[3] "National NAGPRA." National Park Service, U.S. Department of the Interior. 30 Oct. 2012. http://www.nps.gov/nagpra/